🍄 About Project Mushroom 🍄
Project Mushroom started in November 2022 as a community-led effort to build a safe place on the internet that centres joy and action. We want to build a better online experience — free from harassment, free from bigotry, and one that promotes connection, mutual aid, and transformative action at this critical moment in history.
The name 'Project Mushroom' comes from the ground beneath our bodies. Mycelium is the part of a fungus that gathers nutrients, comprised of web-like threads. Like Rebecca Solnit writes in Hope in the Dark, a mushroom is the visible fruit of the work of billions of connections waiting for the perfect moment to rise up together.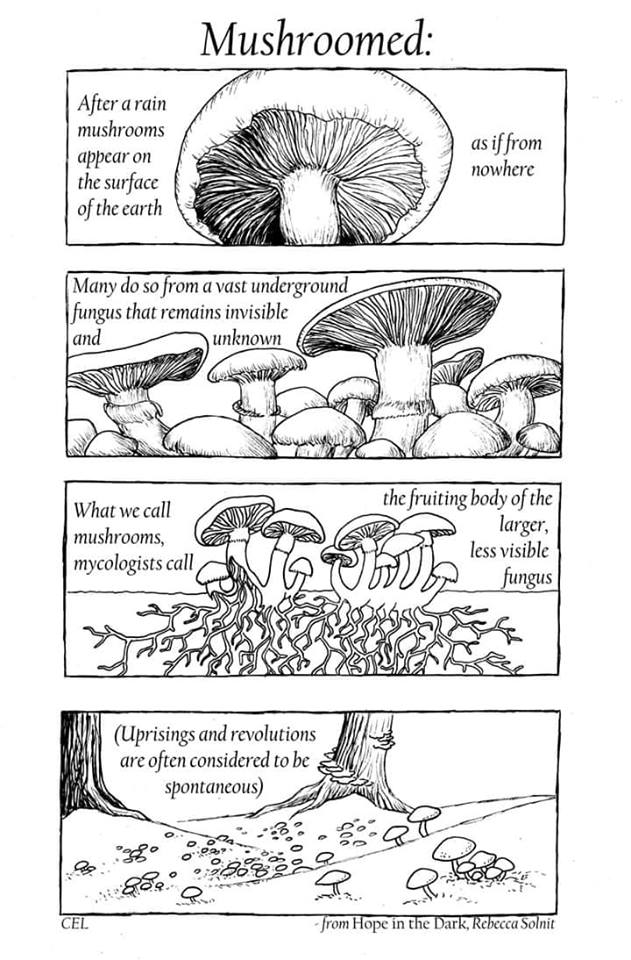 Project Mushroom consists of two Mastodon communities: projectmushroom.social is a private social network where members can connect in a more intimate space, protected from targeted harassment and unwanted attention; and spore.social is a climate justice-focused server where people can engage with a broader range of communities on Mastodon.
We also publish a newsletter that highlights opportunities for getting involved in climate action and mutual aid.
We recognize that climate justice is fundamentally connected to all other forms of justice. Everything is a climate issue now. So join us in remaking everything. Our goal is to build an open-source community of creators that can help each other bring into being the world that needs to exist.
We've had enough of the scorched earth policies of billionaires on a warming planet. Project Mushroom will cultivate timely and accurate information that supports community resilience and safety during the climate emergency. It will work to build strong, long-term relationships with people whose stories we share and those who use our services.
---
For more information, or if you have any questions, please reach out to us directly: info@tryprojectmushroom.com