Real talk on Project Mushroom — and some *great* news 🍄

Project Mushroom is moving full-steam ahead, and we've got some super exciting news to share! 🍄🍄🍄
But first, some real talk:
Since Friday, we've raised $29,102 and counting from 698+ backers in our Kickstarter. That means we've got 24 days left to raise $170,000+ and we're still on track to do exactly that.
That also means that we need to keep up our pace of $7,000 a day in pledges to hit our target. That's totally doable,
One way for that to happen is for every person on the waiting list to pitch in $8. Now I know that's not possible for a ton of different reasons. It's the end of the year, holidays are coming up, and many of us don't have any extra cash. If you can't pitch in money — that's 100% OK, really. Tweeting your support with a few words about why you're excited about Project Mushroom would be an enormous help, too.
If you can financially support Project Mushroom, here's what we're asking of you:
If you have the means, please pledge $50 or more — and pay it forward. You'll not only be pledging $8 for yourself, you'll also be pledging $8 for five other people who can't do so.
If you pledge $50 or more, you'll also be rewarded by helping to select our artists and the designs of the merch they create for us. And creating beautiful things together is always an exceedingly lovely thing to do with friends. 🍄
Pledge $50 or more
Fairy Ring Tier
• Early Access to the Project Mushroom platform
• An invitation to vote on artist designs for our very first merch
If you're wanting to give at a higher level, we sent more details on our Kickstarter tiers in an update over the weekend. Our tiers are amazing.
Some of you have also asked for a more detailed breakdown of how we're planning to use the $200,000 we're raising from Kickstarter:
We are committing 100% of the funds from this Kickstarter to the people who are making this project possible.
Moderation (We're onboarding up to five full-time moderators immediately. Cost: $25,000/mo)
Development (We have 1 full-time and 3 part-time developers working right now on User Interface / Database / Integration. Cost: $30,000/mo)
Diversity, Equity, Inclusion, Trust, and Safety (We are paying consulting rates for more than 10 people to work part-time with us to craft our community intentional and make sure everyone's needs are heard and met. Cost: $10,000/mo)
Partnerships (We are forming strategic relationships with organizations around the world to grow quickly with like-minded allies. Cost: $10,000/mo)
Legal support (We're retaining a lawyer who is mission-driven and wants this project to succeed, so they're setting us up for success. Cost: $5,000/mo)
Project management (We're working with ex-Twitter folks who know how to do this because they've done this before. Cost: $10,000/mo)
Server/hosting costs (We're investing in architecture that can scale quickly to millions of monthly active users if necessary. Cost: $10,000/mo)
Total costs: $100,000/mo
We anticipate we'll be able to get up to 1,000,000 people onboarded out of Twitter over the next two months with this financial support — and into Project Mushroom where we'll be prioritizing safety, connection, and justice.
We never intended to work this quickly, but we know we must because so many people are depending on us to get this right.
Your support — at any level — will make this work happen.
We are doing for each other. 🍄🍄🍄
---
Welcome Dana Lacey!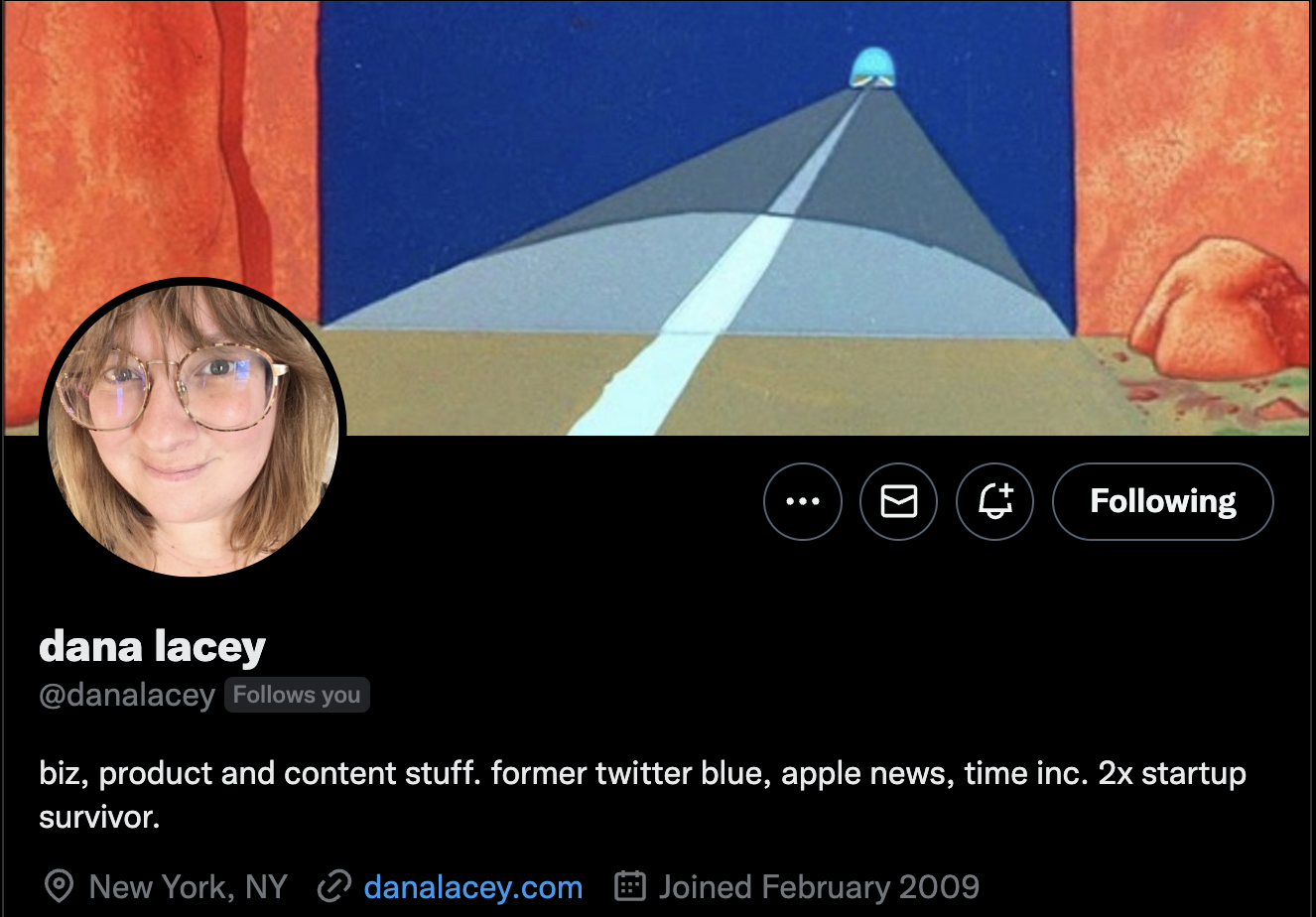 Our newest team member at Project Mushroom is Dana Lacey, who most recently worked at Twitter on the team that launched Twitter Blue, and managed partnerships for Twitter's early stage product team. Dana is based in Brooklyn and spends her free-time biking.
Out of nearly anyone, anywhere in the world, Dana is the person that can help Project Mushroom achieve our vision of becoming a safe — and self-sustaining — place on the internet for creators to collaborate and bring forward a world filled with justice.
We're thrilled to have Dana on Team Mushroom! 🍄