Rollout timeline for Project Mushroom 🍄

Hey everyone!
The Project Mushroom closed beta is now live! 🍄🍄🍄
As of today, we have a functioning social media network — the first one in the world that I know of that's community-driven, focused on climate justice, and explicitly anti-racist.
If you're new here, Project Mushroom is all about building a safe place on the internet — together. We're building a life raft from the scorched-earth policies of billionaires on a warming planet. We're building a refuge where thousands of people can come together to share and celebrate together — as well as plot revolutionary change. We're here because there is no time left to demand a better world.
A stunning 25,000+ people have joined our waitlist since Project Mushroom publicly launched two weeks ago. Our team is building the infrastructure to prepare for 25,000,000.
Getting there will be challenging, but it's much much closer than it seems. We're going to be intentional about how we proceed — the rest of this email outlines the three phases of Project Mushroom's expansion over the next few months that can get us there.
In the meantime, please keep sharing the waitlist link: https://tryprojectmushroom.com/
For every five people you refer, we will pull a pound of trash from the ocean with the help from our partners. So far, Project Mushroom has pulled 1,434 pounds of trash — or about 34,210 plastic bottles — from waterways around the world.
Lots of people we've spoken with over the past several days are really excited to build Project Mushroom with us rather than just expecting it to be a product they get. I think it's worth mentioning again and again because how amazing that is. We are doing this for each other.
Establish our creator council (400 people)
Target date: today, November 16! ✅
In the short term, we are assembling a creator council that will help direct our efforts going forward. This is open to anyone who wants to help build a better online experience — free from harassment, free from bigotry, and one that promotes connection, mutual aid, and transformative action at a critical moment in history.
This afternoon, we sent invites to about 400 creators — a majority of which are BIPOC and about 70% of which are women. These folks will serve as our formative collective of voices from around the world to set the ground rules for this new community — before we open up the entire waitlist.
The Project Mushroom Creator Council will steer the rules and norms that will shape our spaces — whether or not to allow swearing (probably yes) or nudity (probably no), etc — how the moderation of conversations will work, how the community itself will drive feature requests and functionality, and how revenue will work so we can make this space self-sustaining.
Our main three priorities of the Creator Council:
testing
collaboratively developing moderation guidelines
seek funding and support - and establish a non-profit
One of our major questions right now is on corporate structure — most importantly how soon to establish a non-profit. Right now we're leaning towards establishing a US-based non-profit as soon as possible. If you have expertise that can help us do this, please email me directly: eric@currentlyhq.com
We're going to make Project Mushroom completely free for the vast majority of people, and encourage voluntary recurring memberships for those who can afford it that will fund the service. Memberships will eventually give personal access to live events and exclusive one-on-ones with creators (with a safety firewall to protect creators from harassment), and maybe also classes and skills-sharing workshops. The possibilities are endless for things we could include.
In the shorter term, we're planning a crowdfunding campaign that will launch in the next two weeks to serve as a seed fund to make sure we can scale our collective efforts as quickly as possible before Twitter implodes entirely.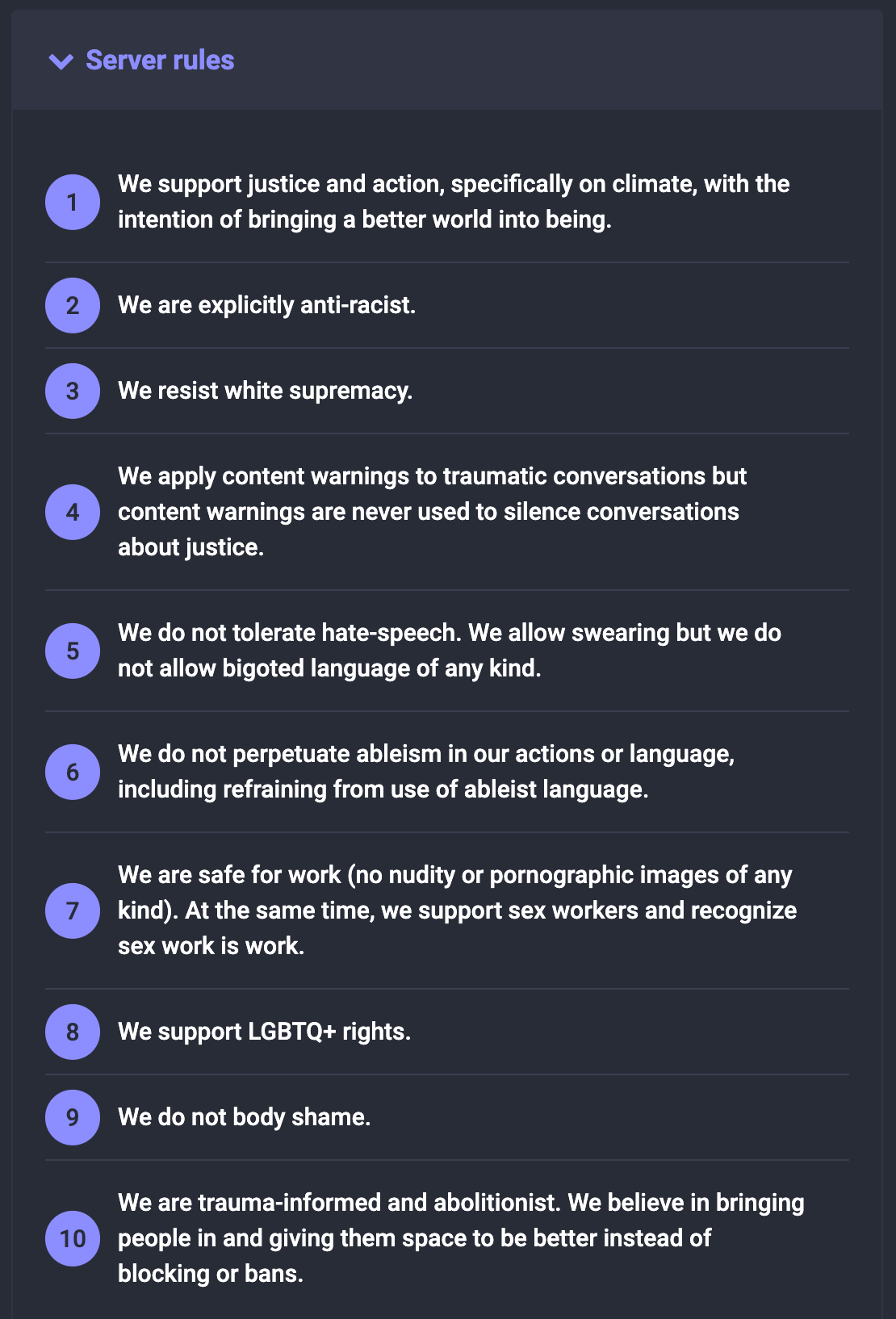 Expanded Closed Beta (full waitlist, 25,000+)
Target date: December 1, 2022
Once the Creator Council finishes the bulk of their work over the coming days, we'll open up Project Mushroom's server to our full waitlist. The goal is to send waitlist invitations in batches and finish by the end of November.
From Day 1 we're already available via the Mastodon app on Android and iOS — and if all goes well we will never need any advertisements to fund the service.
Our goals for our technical team before we can open the waitlist to everyone:
a streamlined onboarding service of the entire Project Mushroom waitlist
migration tools for bringing on your blocklist and followers from Twitter
allow access to other mastodon servers by curating who we are federated with
Mastodon has no algorithm — we will not and cannot collect any personal data from you besides the email address you use to sign up with. Project Mushroom will continually improve safety and security for everyone we are in community with — and we will always be transparent about major decisions before they are made.
Open Beta (25,000,000+)
Target date: January 1, 2023
After we spend a few weeks in community as an expanded beta of tens of thousands of people, we'll actively encourage people to bring their Twitter followers with them to Project Mushroom.
encourage everyone to import all their followers
allow anyone to sign up as long as they agree to our community-defined terms of service
begin launching our creator services for newsletters, podcasts, and live events
Our 25,000+ waitlisted members have a median follower count of about 1,000. Even factoring in considerable overlap and some built-in reluctance to use Mastodon, our automated tools could easily allow an average of hundreds of followers to onboard for each person on the waitlist.
Using Erica Chenowith's 3.5% rule, there are 5.5 billion people in the world over age 15 — 3.5% of them is 190 million. I think we are in a political and cultural moment where we could motivate a significant fraction of those people to join Project Mushroom.
This is a moment like no other in history.
In solidarity,
Eric
---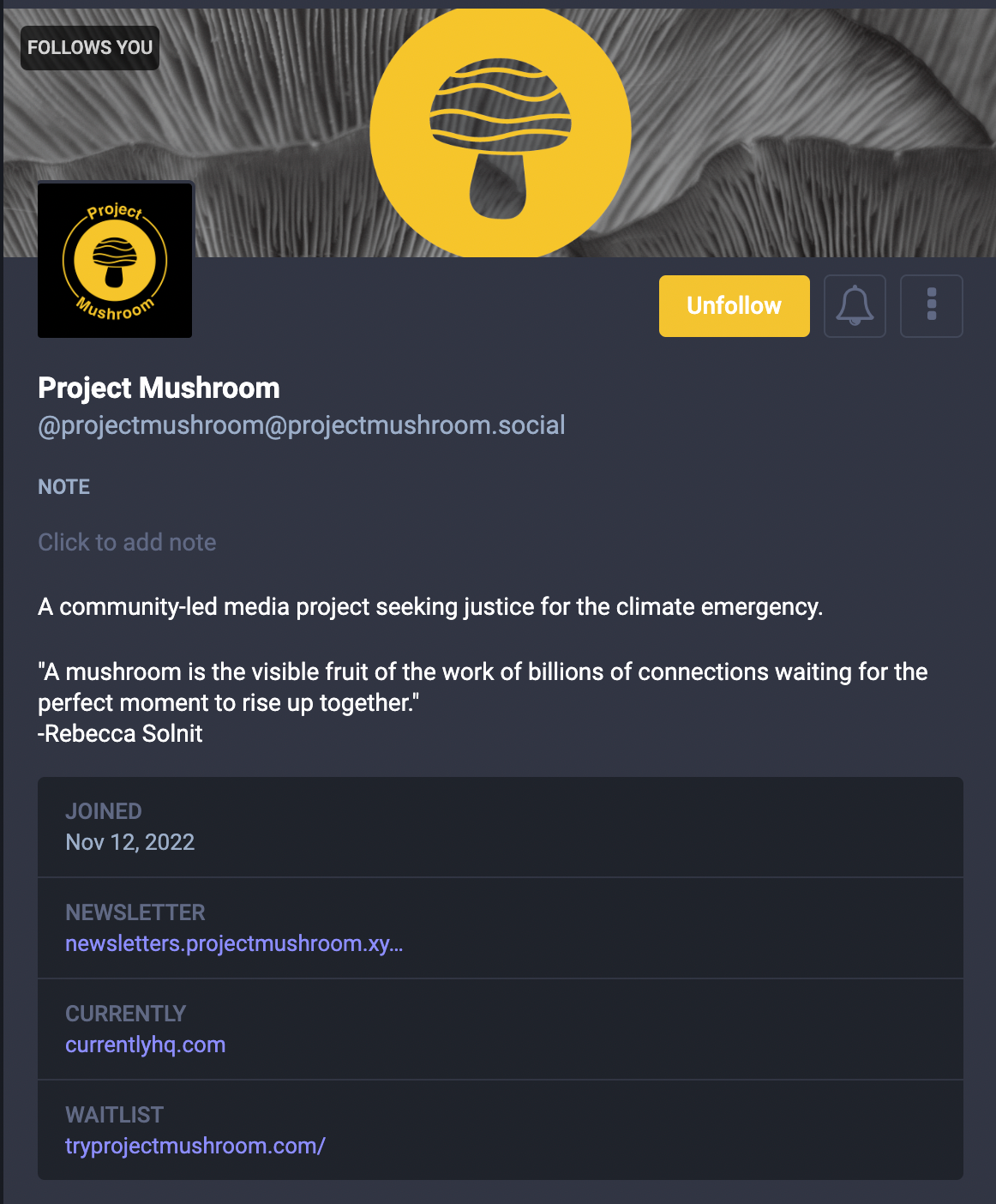 ---
P.S. Project Mushroom is brought to you by Currently Weather Service. For some additional context, here's what Currently is and the other things we've been doing:
While we are building the Project Mushroom platform with you, we wanted to show you the work we've been up to since our founding in October 2020.
Throughout the past year, we have been producing stories and providing weather information that aims to illuminate possible paths toward a liberated, habitable and joyful future for people and the environment alike. Check out some of our most popular stories:
- We Need More Climate Protests, Just Not Performative Ones
- Nigeria Faces Worst Floods In A Decade — Restricting Gas And Food Production
- Palestine: Where Manufactured Water Scarcity Meets Climate Change
We also have daily weather newsletters written by folks on the ground in more than 20 cities. It's free to sign up!